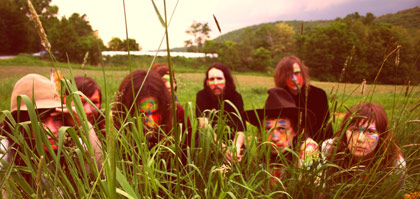 FEATHERS
Vermont's Feathers will be releasing their eponymous debut on CD this April via Gnomonsong , a label venture between экскурсии в музей Москвы distributor "revolver usa" and musical artists Devendra Banhart and Vetiver's Andy Cabic. This self-produced effort was recorded in member Kyle Thomas' bedroom in Vermont. Feathers also contributed to several tracks on Devendra Banhart's Cripple Crow CD.
Feathers was recorded on an old 1/4 inch 8-track reel-to-reel that used to belong to a reggae band. Members of the group would find a spot amidst the piles of records, dried flowers, books, and mysteries in Kyle's small room and record their parts, painstakingly working under the glow of blacklight paintings done by Kyle and his parents. The band would often work so late as to leave sleeping bodies peppered about the house.
Feathers is eight musicians in all, a group with no leader and many songwriters. They write primarily guitar-based songs, both acoustic and electric. For accompaniment, they chose from among a wide collection of instruments, which includes harp, sitar, clarinet, and synthesizer, plus just about anything else they can get their hands on. Carefully arranged vocal harmonies also figure prominently in their writing. They sound like a ceremonial band from a country that doesn't exist, on a continent that's largely extinct, from a planet that's fairly unpolluted, at a party you wish you had gone to. They write about things in between life and death, arts and crafts, love, roadkill, and robot arms who draw straight lines all day.
"I love their songs, the lyrics and each of them as a person," says Gnomonsong cofounder Andy Cabic. "How they band together to add detail and filigree to each other's songs...how there are so many of them, yet all together, they still sound quiet. I love Ruthie and Meara's harmonies, and Asa's low tenor contrasted with Kurt's falsetto. I like the fact that they all seem to play the drums! They embody a modern New England antiquarian sound, full of ramshackle fellowship and independence, and I'm very happy we are able to release their music."
The band began as the duo of Kurt Weisman and Kyle Thomas, but the ranks gradually swelled via a circle of old and new friends. First came Meara O'Reilly and Shayna Kipping, taking up the violin and banjo respectively, then learning by doing; and Ruth Garbus singing, being best friends with Kyle and having the habit of sitting around together singing and being fairly silly in general. Jordan Morris came to practice with a friend, and they knew Greg Petrovato was a strange guy who was into psychedelic music and had a sitar. Asa Irons, who grew up with Kurt, stopped through on his way home from Nova Scotia and was in the band as soon as he walked through the door. Soon
Feathers was playing extensively around New England, then embarking on national tours with Smog and Espers. They self-released a series of EPs and CD singles, which were sold at their live shows, then the vinyl of their debut album proper, which is now being released on CD by Gnomonsong.
The individuals in Feathers bring a variety of backgrounds to the group. Kurt played experimental electronic music for a number of years, but returned to songwriting when he moved to Asa's stone house. Asa continues to write songs about the woods he grew up in. Kyle is a punk rocker at heart and has been writing pop songs since he was fifteen, and Ruth's childhood home was rich with classical and old-timey folk music. Meara grew up playing the lap harp, studied experimental music, and was a noise fan. Shayna, a sculptor; Greg, a record dealer; and Jordan were all closet musicians...all this against the backdrop of New England's long-standing traditional and experimental music scenes. One byproduct of all this eclectic creative energy is a number of side projects: Asa and Kurt's metal band Embalmed by Vastness; Kurt's solo projects; and Witch, a heavy rock band featuring Kyle and Asa of Feathers, plus J. Mascis and Dave Sweetapple.
Feathers is, however, more than the sum of all these influences. These musicians have the ability to come together as parts of a greater whole, arranging differently for each songwriter and writing songs for each other. What brought these friends together and ultimately continues to bond them is their excitement about one another's widely varied and previously reclusive artistic plotting. And they're having a good time.