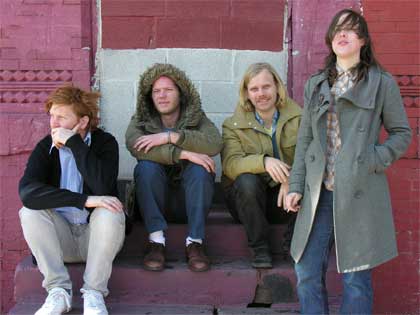 LOWER DENS
Swarming guitar fuzz, bass waves, Jana Hunter's voice, and insistent drum throbs are the core components of Baltimore's Lower Dens. Hunter, sometimes known for intimate, ghost-heavy weird-fi, is now writing and playing with a group that might get filed as new wave, or drone pop, or post-punk. With due deference to her solo work, we're very glad.
The swarming wave-throb, coupled with Hunter's lyrics and redolent, charred voice, wrecks. The band's upcoming record, Twin-Hand Movement, is eleven perfect songs long. From opener "Blue & Silver" (anxiety mounts at a quick clip until the final climactic release) to "Plastic & Powder" (a churning, narcotic slow-burner) to "Hospice Gates" (penultimate album cut, proud weirdo anthem, possible creative zenith), not one is a space-taker. They're rife with the survivalist paranoia you'd expect from residents of a post-urban port hole (and this particular songwriter), crafted methodically and beautifully, and carry you enthusiastically out into the rolling breaks of industrial filth-water.
"I Get Nervous", the lead single from THM, starts in a kind of nebulous weird place. Its a good half-minute of straight, building disorientation before the the guitars swell in and make room for the kind of solid drum beat you might never need to stop listening to: steady hi-hat, the snare and kick patiently ticktocking. Guitars wash over everything, and the overdriven bass keeps time with the cymbal. A strummed guitar now announces each measure, and by the time Jana Hunter's voice finally drops like soft water out of the sky, you're floating on it. "In the same rich path, you and I align," goes one of the lines. It could as well be about this song. It's three and a half minutes never feel like enough. The second side, "Johnssong", seems to follows a simple, if tense, narrative down a doo-wop road, until the bottom drops and it suddenly veers into a somehow perfectly suited, looping guitar squall that escalates in thick shrieking layers before it finally crests, parting, making clear that sun-filled, awkward alley once again.
Lower Dens formed in 2009, when Hunter set about finding a full-time band. They spent the rest of the year sweating in attics and basements, and only stepped out of the shadows to do a quick tour and record. Twin-Hand Movement was recorded by Chris Freeland (ex-Oxes drummer; proprietor of Beat Babies, Baltimore), mixed by Chris Coady (at his DNA, NYC), and mastered by Sarah Register (of the Lodge, NYC and the band Talk Normal.)
They'll tour this summer, first through the US with hometown friends Future Islands and then again and again, and everywhere.