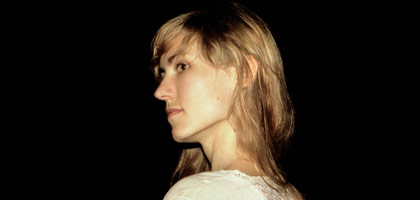 RIO EN MEDIO
Rio en Medio's debut album for Gnomonsong The Bride of Dynamite is an intricate collage of layered vocals, delicately plucked ukulele, ghostly samples and gritty, deconstructed electronics, all performed by Danielle Stech Homsy. Final production and remixing was done by Thom Monahan (of the Pernice Brothers) at his home studio in Los Angeles aided by Vetiver's Andy Cabic. Special touches were contributed to some tunes by Andy, Sierra Casady (CocoRosie), Tim Fite and David Coulter among others.
Most of the material that comprises The Bride of Dynamite was recorded by Danielle on her own with no intention of releasing it; those songs have been remixed or a few strategic flourishes added - a couple songs were entirely re-recorded. The Bride of Dynamite features texts lifted from sources as disparate as William Blake, Paul Eluard, John Ashbery and a 1920's Baghdad travelogue. Danielle's own songwriting is rarely autobiographical, yet it maintains a personal tone, making the strange intimate, and invoking the voices of familiar ghosts, from disco doppelgangers to pre-adolescent sovereignty.
In her music Danielle has opted for the open field. Born on a cold January morning in the high desert, she inherited two blessings: a reverence for unearthly beauty and a tactile responsiveness to the world. Her music is evidence of both. At its best, the gentle, the fearful, the sorrowful, the formidable, the entranced and the rambunctious collide to create a sound that is as responsive as it is moving. In her own words, it is "music that wants to listen as much as be heard."
Danielle was born in New Mexico and raised in California, then Arizona. She studied creative writing at Bard College, and moved to New York City where she currently resides. Most of her inspiration comes from stints of singing with a number of choirs rather than formal musical training. Danielle started playing the baritone ukulele and writing songs immediately after returning from a trip to Russia, where she had been translating poetry. The songs poured out of her and she began to record them in secret, only sharing them with her friend Sierra who had promised never to play them for anyone else. As fate would have it, Devendra Banhart barged into Casady's apartment one day while she was playing Danielle's music and he fell in love with it, eventually prevailing on her to release them through Gnomonsong. Soon after, en Medio began to play live regularly in New York, working with Justin Riddle and Christian Lee as accompanists and employing an ever growing array of instrumental flavors: samplers, keyboards, Indian Banjo, harmonium, drums, and more. In just the passed year, Danielle has performed or collaborated with a wide variety of outstanding artists, including Devendra, Vetiver, CocoRosie, Tarantula A.D., Tim Fite and Larry Yes, among others. In addition, she recently appeared at England's All Tomorrows' Parties Festival. Now, with the album release imminent, Danielle is already getting busy on her next projects. There are whispers of a collection of dance tracks in the works. She has alluded to a collaborative album with Tim Fite. As she gains momentum, Danielle is sure to surprise both herself and her audience, inspiring renewed faith in the power of a song to transform the reality of its listener.